Long worn by ballerinas and athletes, leg warmers became a trend in the 19'80s. Leg warmers are once again becoming popular, and can be found in stores like Ardene's and Claire's. However, they're also extremely easy to make for yourself. The DIY route is often less expensive and allows much more room for customization in terms of size and style.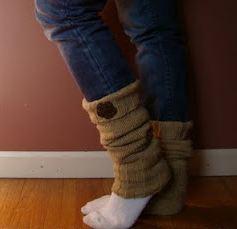 Step 1: Find your starter material.
As we mentioned in a previous blog post, some people use the arms of sweaters or shirts to create leg warmers. Search for ones that will suit your size, as sweater sleeves tend to come in more widths than one-size-fits all leg warmers. This is handy because socks and leggings tend to slip down on those with small frames, or be too restrictive on those who are curvier. You can also use less bulky long t-sleeved t's, or even a pair of leggings. You can raid your closet for items you don't wear, and this is also a great way to recycle an item that has been torn or damaged somewhere other than the sleeves.
Step 2: Measure.
Decide if you want the leg warmers with flats, scrunched down with low boots, or if you're going to need more fabric showing over the top of a higher boot.
Step 3: Cut
Use sharp scissors, especially if you're cutting thick wool. It's no fun when you end up mauling a fabric that frays easily with dull scissors, and then having to cut it shorter and shorter to fix the damage. It's a good idea to cut about a half inch to an inch more than you need, so that you can create a hem, which is where step 4 comes in.
Step 4: Hem.
Roll down the part of the fabric that you cut, and hem it. You can do this using a sewing machine, or by hand. If you don't have a sewing machine and are new to sewing by hand, check out this link http://www.coatsandclark.com/Crafts/Sewing/Howtos/Hand+Sewing.htm for some basic stitches. Even if you're fabric isn't going to fray, hemming it will make the edge look more even.
Step 5: Add accents, if desired.
You can sew on buttons, bows, or lace, to add a more unique touch. In general, smaller buttons and lace look great with thin knit or cotton, while larger buttons or bolder accents complement chunkier knit leg warmers.
Here's a pic of my DIY legwarmers, try out this tutorial for yourself and be sure to post a picture to our Facebook page.
Image: Taupe socks: Etsy.com, Catherinecolestudios
Image 2 Proverbslady.com