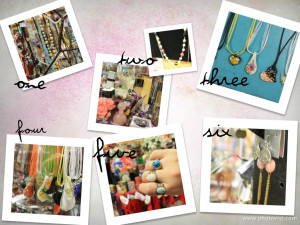 We have a great selection of bracelets, necklaces, rings, and watches on sale at Urban Thrift. Some items are new, and others are vintage. Before hitting our shelves, each piece of jewelry goes through a sorting process to ensure that it meets our standards in terms of quality and style. Contemporary pieces and costume jewelry are researched so that we can price them effectively.  We follow the same process for vintage items, and we also do repairs in store to ensure that all clasps, fastenings, and settings are as good as new. This post features some of the spring and summer pastel items that have recently arrived.
One: As shown in the first picture, many of our softly coloured bracelets, necklaces, and earrings are beaded. This makes them perfect for layering. One of the best pieces for the layered look are long beaded necklaces: they can be looped and worn at different lengths depending on the neckline of the top you are wearing.
Two: These softer pastel pieces can be the perfect finishing touch for a romantic look such as a flowing sundress, but can also soften up a more polished outfit by contrasting with sharp lines or darker hues: the black and white details will blend in with an otherwise neutral outfit.
Three and Four: These glass and resin style necklaces are a customer favourite. They feature various designs such as flowers, birds, and butterflies contained within the translucent teardrop shape.
Five: Opal is October's birthstone, and the ring shown here could make a fantastic gift (or an early birthday present to yourself).
Six: This delicate set of sterling silver earrings feature a summery leaf design. We always strive to identify and label the metal types using in our jewelry so that our customers will be able to determine which earrings and body jewelry that won't irritate sensitive skin, and have a selection of magnetic and clip earrings for the same reason.
For more information and frequent updates on new arrivals and sales, like us on Facebook. You can always comment or message us with questions related to sizing or to reserve a specific item for you. You can also check out our full selection of jewelry and accessories in-store. We're conveniently located just 5 minutes from Whitehorn station, and are open 7 days a week.