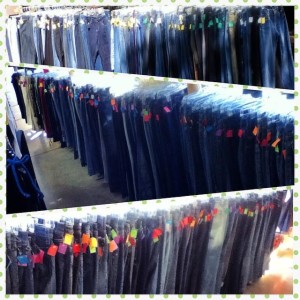 With all of the jeans we have in store, it can be difficult to know where to start and how to find the perfect pair of jeans. All of our sections are organized by size, and once you have a general idea of the size you need, search within that category to choose the fit and look that suits you best.
Men's jeans sizing is simple, and is fairly standard across different brands. Measurements are listed in inseam length/waist format. The inseam is the distance from the top of the inside of the leg of the jeans to the bottom. The waist length is the width around the waistline of the jeans, and will sometimes vary slightly based on how high or low the jeans sit.
The main fits for men's jeans include straight leg and boot cut. These are generally considered the most versatile types of jeans. However, tapered jeans or loser-fitting jeans might also be suitable for more laid-back occasions, if that is your style. It's advisable to consider when you'll be wearing your new jeans–even semi-formal and casual workplaces tend to call more for darker denim and traditional cuts over anything dramatic. In order to really get a feel for how the jeans look and feel on you, we suggest trying on the jeans with the belt and shoes that you usually wear in order to see how well everything fits and matches together.
For women, being able to pull the right size jeans right off the rack can be a little more difficult! This is because although all sizes are numbered, these numbers aren't standardized in any way and it can be difficult to compare between brands. Although some makers label their jeans by waist/inseam, the number on the tag usually depends on the maker, the country the jeans were made in, and even the year in which they were made. At Urban Thrift, we make the greatest effort to sort our products by waist/inseam measurements and to keep sister sizes in the same sections. However, we always advise trying them on to make sure you have the most comfortable fit. If you're in doubt or are shopping for someone else, many companies now have measurement charts on their websites, and we'd be happy to help you find the perfect size.
There are a variety of different cuts of jeans, to suit every body type. There are numerous fits at the waist. For women, there are high rise, medium rise, and low rise jeans. Ultra low-rise jeans sit very low on the hips, while low-rise jeans sits approximately 3-4 inches below the belly button. Mid rise jeans sit in between the belly button or natural waist. High waisted jeans sit at the natural waist. There are also more dramatic styles that rise up past the natural waist. It can be tricky to find a pair that hits exactly at the natural waist if you have a long or a short torso. Trying on a variety of heights can be important, and a pair with a little bit of stretch can add comfort. High waisted jeans are currently in vogue in both sleek and more unstructured boyfriend cuts. High-waisted shorts have also been making a comeback over the last few summers.
In terms of the overall fit and "trouser" part of the jeans, we carry everything from retro bell bottoms to narrow skinny jeans. Boot cut and straight leg jeans are flattering and versatile styles. This look is relatively neutral and timeless, especially in a darker wash. For women, the boyfriend jean provides a roomier and more casual silhouette, and can be paired with a more relaxed shirt for a casual look, or a dressy top for contrast. While it can be fun to shop for the latest style, we think it's important to find a pair that suits you and makes you look and feel your best, regardless of what everyone else is wearing. This is why we carry cuts and styles that span various decades in men and women's petite/slim fit, regular, and plus sizes.
 What kind of denim will you be wearing this summer? What features are most important to you when you're shopping for a new pair of jeans? Let us know in the comments or message us on Facebook.