If you liked our post on Valentine's Day florals, or maybe just the idea of getting a jump on shopping and DIY projects, this post will give you more information on how to create your own fabric flowers. While they're perfect to use in floral headbands like the ones we outlined in yesterday's post, they can also be put to use in other crafts and DIY projects.
There are many ways to sew flowers and rosettes using the fabric of your choice. We'd recommend checking out these tutorials, which provide instructions on how to make your own fabric roses, runway-inspired wildflowers, and shabby-chic flowers with button details. Floral fabrics are easy to find at craft stores, sewing shops, and can easily be upcycled as well.
If you prefer the appearance of freshly cut flowers, you can opt to use the artificial ones that are available at craft stores. If you are going for a bolder style, larger and more dramatic flowers can be found at stores that sell items for home decorating.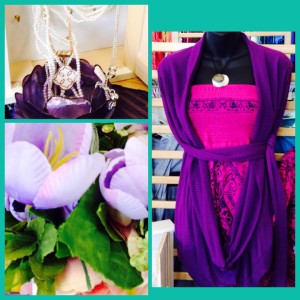 Many floral crafts also incorporate beads, bows, and other accents. For example, when putting together our in-store jewelry and accessory displays, we like pairing flowers with clear glass beads, pearls, and vintage-looking metallic charms or brooches. Combining various beads with the flowers can allow you to change the look of a piece you are creating.
In the same way that you can give a vintage garment new life, it is easy to upcycle pieces of jewelry into accents for your project. Most bracelets, necklaces, and rings can be easily dismantled with a pair of needle-nose or jewelry pliers. Elements from brooches and rings can be slightly more difficult to attach to a headband or clip, but the process isn't impossible.  For brooches that are glued together, the pin can be removed using pliers. You can also remove the backing pin of a brooch by snipping it with wire cutters and sanding the back down (most jewelers can also do this, if you prefer to have this done professionally). You will then be able to glue the brooch or bead to the floral arrangement on your headband or clip.
Do you plan on trying out any of our floral crafts? If you haven't checked out our previous post, which examines how to make floral hair accessories, be sure to check it out.