If you have never tried knitting before, winter is the perfect time to add this skill to your crafting repertoire: all of those scarves will come in handy during the cold winter months! At Urban Thrift, we have all the tools you will need to your own knitting kit, including patterns; crochet hooks, and knitting needles. Most importantly, we carry numerous types, weights, and colours of yarn.
Fiber Type 
Most types of yarn are made from a blend of different fibers. The label should indicate what kind of fibers the yarn is made of, as well as how the yarn was created. Yarns can be made from wool, ramie, or any type of synthetic fiber. Sometimes they are created from combinations of two or more fibers. Yarn may also be staple type, filament type, or a mixture of both. Filament type yarn is created from long, unprocessed strands of fibers, whereas staple yarn is processed into pieces that are usually less than seven inches. These smaller pieces are then twisted together at a high speed to form the finished ball of yarn.  Different manners of processing yarn can ultimately have a bearing on its look and quality. This article provides a great overview of  the different types of yarn and their characteristics.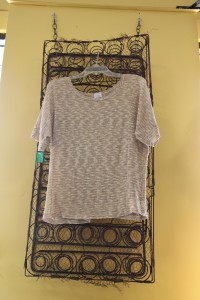 Weight
Skeins or balls of yarn are sold according to weight rather than length. Since some types of yarn are heavier than each other, two bundles of the same weight may not necessarily be the same length in meters. Generally, heavier yarns are better for warm creating warm outerwear, cozy socks, and chunky, winter-ready sweaters. Lighter types of yarn are better suited for more delicate or fitted pieces.
Dyes and Colourways
There are also several different types of dyes and methods of colouring yarn, so it can be a good idea to read up on the way your yarn was dyed, and check the wash instructions, so that you can't make sure your new garment won't run or shrink. Yarn comes in a variety of colourways. If you want to create a multicoloured item with a minimal amount of effort, you might want to choose self-striping yarn for your project. This yarn  creates stripes when it is knitted or crocheted in different patterns. It should be noted that it's possible to create striped garments without special yarn, but it takes more practice. If bold and contrasting stripes aren't your style, but you still want something other than one solid colour, ombre and dip-dyed yarn might be just what you're looking for. The monochromatic appearance is great in any shade, but this winter we really love earth tones and dark blues.
Will knitting or crocheting be one of your go-to snowy days activities this winter? If they already are, let us know which one is your favourite on Facebook or in the comments section.