This is the third part of our DIY projects for kids, and this time we are focusing on crafts and activities that kids can help you put together. These crafts call for a minimal amount of materials and take less than twenty minutes to make. It should be noted, however, that while the projects outlined in this post can be completed by elementary-school-aged kids, a few of these crafts might still require some adult help or supervision.
One of the most simple DIY crafts for kids is homemade "sand". To create this sand–which is similar to what is used at the children's play/learning areas at some museums–all that you need is 5 cups of flour and 1 cup of baby oil. The great thing about this "sand" is that it is dry and has the consistency of flour, but is easy to mold just like wet sand at the beach. Since there is no need for water, you can use it indoors or outdoors with less worry of making a mess. The basic recipe makes enough to fill a small bin, but it's easy to double or triple the recipe.
Another fun craft is "Slime" or "Goo". This craft also only requires two ingredients: cornstarch and water. Mix about 1 cup of water with between 1 and a half cups of cornstarch. The best way to do this is to add the water slowly. Slime is really interesting for kids because it pours easily, but acts like a solid if you hit it or squeeze it. Be warned though, this project is just as messy as it is fun. Slime making best done outside, and that's not an option, it is a good idea to put down newspapers or a garbage bag.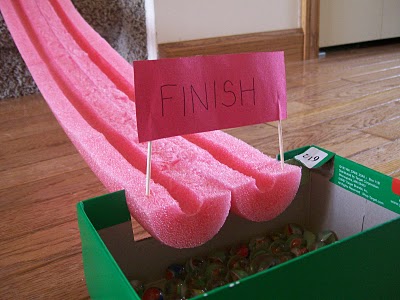 A third craft is upcycling a swimming pool "noodle" into a race-track for marbles. Simply cut a pool noodle in half, and you should have two cylinders with a small groove in the middle. Position the two halves side-by-side on a slanted surface. You could put one end of the noodles on a chair or along a stairway. Position the other ends over a box or bucket for the marbles to fall into. This can be a standalone project, or kids can use it as part of a larger "marble maze", by creating chutes of different lengths.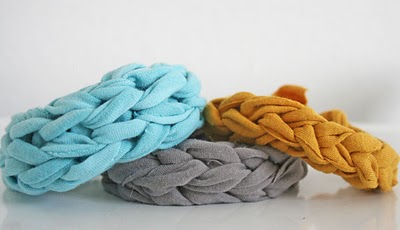 Creating key chains and jewelry is also easily adaptable for kids. Jersey knit bracelets such as the ones on V and Co's site are created from strips of fabric that are then looped and braided. Because type of fabric as well as the size of the bracelet are completely up to you, there is no need to worry about the bracelets slipping off little wrists.
A second upcycled jewelry project that kids can have fun creating is painted washer necklaces. For this craft, you need metal washers of varying sizes, paint, and nail polish, and string or ribbon. Paint a base coat of polish in a neutral colour onto the washer, then let it dry. While most tutorials I suggest base coating once, we found that with certain types of polish you might have to paint the washer with two or three base coats. Once the base has dried, use different colours to add any design you wish. Finally, top it all off with a clear coat of paint sealer. The result looks like glass enamel. While the original tutorial doesn't specify how to apply the paint, we found when testing it that it's best to treat the nail polish like any other sort of paint rather than using the brush and bottle it came with. Use a fine pointed paint brush, and pour the nail polish onto a paper plate or palette. This makes the process a lot simpler and cuts down on mess. Finally, loop a your string through the pendant, and you have a pretty necklace. You can fasten the necklace using a knot or a clasp.