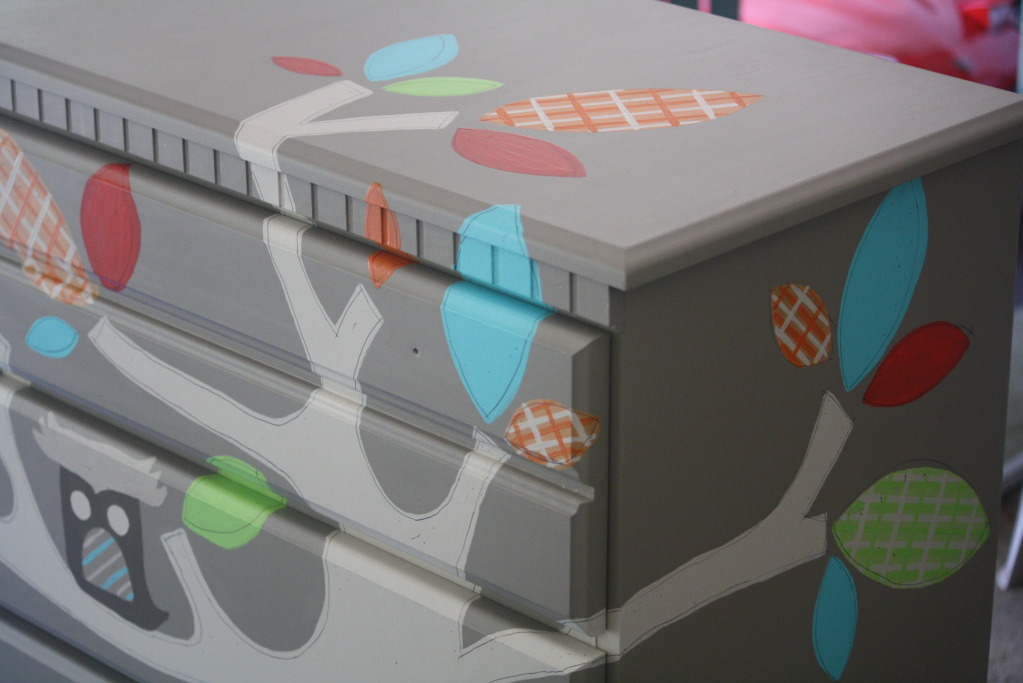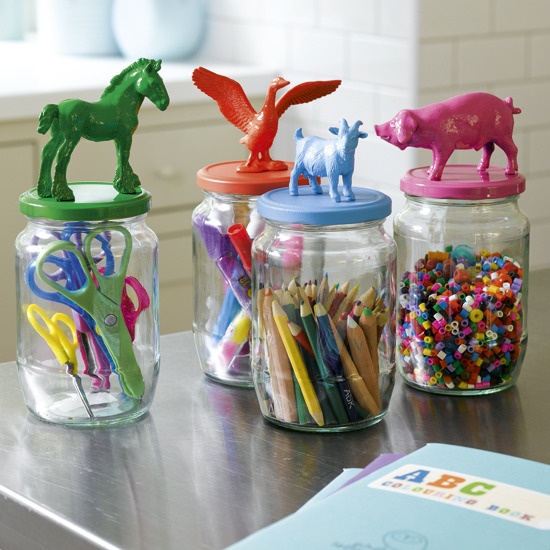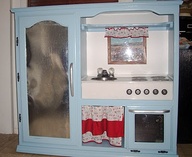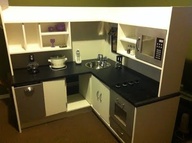 One of the simplest ways to add a personal touch to a room without adding extra clutter is a little bit of colour. This is especially true for younger kids' rooms. Here is the first in our series of 3 DIY projects for kids: some suggestions how to deck out some basic items in any colour of the rainbow you wish.
Some are completely re-painted, others have some stencilling here and there. Other places to add a little paint can be the panel around light switches, the outside edges of a shelf, the frame of a mirror, or picture frames.
Check out this Lego-themed pencil holder. We found it on http://www.estefimachado.com.br/2012/10/porta-lapis-lego-head.html. To create this, all that you need is a small baby food jar, or something similar, acrylic paint, and permanent markers.. Pour the paint inside the jar, and then shake it. Once the paint has dried on the inside of the jar, pour out the excess acrylic paint, and let it dry with the cover off. Then, using a permanent marker, draw a face like one of the lego mini-figures on it. As the author of the site points, Lego faces are easy to draw, just check out an original figure and draw it. You can add felt hair and more, as pictured. This type of jar-painting can also be used to make an interesting wave pattern in vases and jars, also pictured here.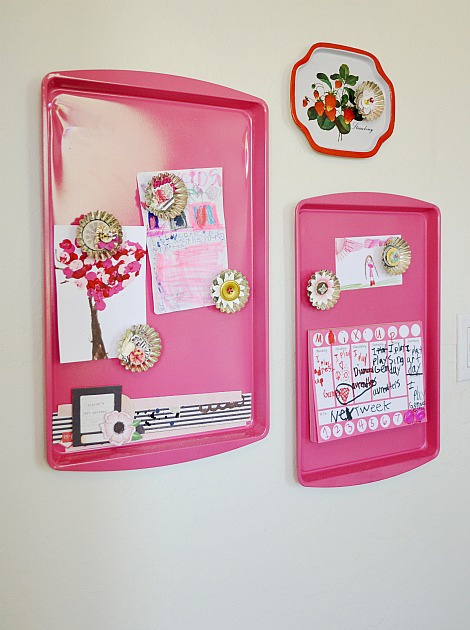 Another cool option for storage is to make animal figurine jars. Take a plastic animal figurine and glue it to the lid of a jar. Spray paint both the lid and the jar a bright colour. You can also use action figurines or even that Charmander cake topper that's been sitting in the cutlery drawer.
Spray painting cookie sheets as magnet boards for games or for storage is also a great idea. I have seen projects online where people have put magnets on the bottom of cosmetics jars and used a magnet board to keep them organized, and it would be possible to do the same thing for certain craft items.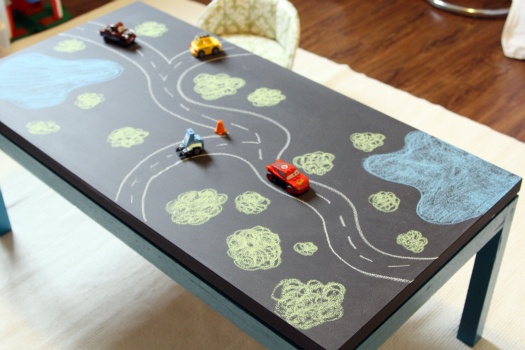 Chalkboard paint is awesome because it has the potential to turn anything into a writeable surface. You can use it to cover wooden storage boxes, jar lids, and even the sides of shelving units in order to keep organized or just to get artistic. Craft sites have dozens of pictures of refrigerators, dressers, and even walls that have been transformed into chalkboards. One of the most interesting uses is to paint an old piano-bench or similar surface to create a draw-able play table for kids. With paint available in a wide range of colours, you and your little one are only limited by your imagination—and any allergies you may have. (In all seriousness, we're actually looking into other versions of the "writeable surface" idea for those who are sensitive to chalk dust).
Let us know what you think of these ideas, and feel free to share your own DIY paint projects with us.
Images:
Cookie Sheet Magnet Board: http://media-cache-lt0.pinterest.com/550x/68/c1/06/68c106c0d6cd5c0753a55fe2dbb95cce.jpg
Information on chalkboard paint: http://www.benjaminmoore.com/en-us/for-your-home/how-to-use-chalkboard-paint