Hair accessories can be incredibly easy to create. The headband and bows tutorials below are simple, and customizable enough that they can work with a polished outfit or be modified with bright colors, perfect as a kids' gift. They are also a fantastic way to upcycle fabrics.
Bow
Hair bows can be a cute addition to any outfit. They are ridiculously simple to make, as they require only a few supplies and very little time. You will require fabric of your choice, bobby pins, a needle and thread, and a hot glue gun.
Step 1
You might want to choose a fabric that matches a particular outfit, or that complements it. Alternately, choose a colour that compliments your hair colour. Red and blue look great on blondes, whereas greens, navy blues, and black flatter redheads. For brunettes, varying shades of blues, greens, and lighter colours such as white or off-white look fantastic.
Step 2
Cut your fabric to the desired length and width. The biggest piece of advice I can give here is to start out with more fabric than you think you will need. That way, you can trim off the edges if necessary. Decide on the thickness and general size of the bow.
Step 3
Tie the fabric into a bow: it helps if you tie it around a pencil and then take it of and tighten it. Adjust the loops of the bow until it's in the shape that you would like. Then stitch the knot to keep it in place. An alternate course of action is to skip the knot and stitch the bow together, then stitch a desperate piece of fabric around the middle.
Step 4
Decide what you want to attach your bow to. It's easiest to push a bobby pin through the centre of the knot, but you can also use a hot glue gun to attach it to a headband or hair comb or clip.
Hairband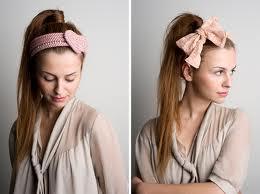 There are tons of variations on this, which you can find on most craft sites on youtube tutorials. We've listed an easy DIY headband that's easily modified to your style. All that you need for supplies is a plain plastic hairband, some fabric, and some glue. You can use thick ribbon for the fabric, but this is also a great way to upcycle a t-shirt, scarf, or even a necktie.
Step 1
Cut the fabric to about two inches in width. Keep as much length as possible, because you will be wrapping this around the headband.
Step 2
Wrap the fabric around the plastic headband, gluing as you go. Try to spread the glue thin, in order to have the ribbon as flat to the headband as possible.
Step 3
Trim any excess fabric and glue the undersides of the ribbon to the headband.
Step 4
Add any additions you wish to the headband. For example, you can carefully braid three other strips of fabric and glue it along the top of the headband. Other ideas are bows like the ones listed in the previous tutorial, or cotton flowers.
Photos:
Pink hairband and bow: thelastrenaissancemajor.blogspot.com
Bow: Urban Thrift