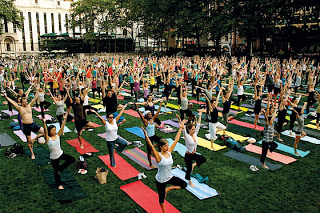 Spring is the perfect time to start getting active. Calgary has trails along the Bow River, Nose Hill Park, and tons of bike trails, which are surrounded by lots of trees. Urban Thrift often has tons of activewear and outerwear that's affordable and perfect for any fitness enthusiast.
If you're outside, particularly running or jogging, keeping out of the sun can be important. A snug baseball cap is great for this, and is also a great idea for people with hair long enough to get in the way during a workout but too short to pull back into a pony tail.
Sunglasses also keep the sun out of your face, and you can check out the dozens of pairs we have in stock. If you're purchasing them for outdoor running, make sure that they'll stay on even when you're moving around and running. Sports companies such as Adidas make specialized glasses for sports that won't slip off. If you're not up for buying a specialized pair, you can make sure to invest in a pair that is snug, or even take a few small rubber "ouchless" hair elastics (designed not to slip out of hair), and wrap one two times around each "arm" of your sunglasses. The most important thing about sunglasses is to make sure they have UVA/UVB protection: some are just for fashion use so be sure to check the labels.
In terms of shirts, there are many, many options available, and the best option depends on what kind of sport you're doing. For lower-impact activities that won't have you sweating much, such as like yoga, pilates, and general stretching, cotton t's are a great and comfy option. For other activities that are more intense, cotton might not be a good idea because it soaks up moisture and keeps it there, which can leave a person feeling overly sticky and hot in the summer, and chilly on colder days. Instead, look for shirts made of lightweight fabrics.
When it comes to shoes, it's important to go for good quality sneakers if you're training often. You also have to be careful to replace them when they wear out to avoid discomfort and possible injuries. Because everyone's activity level, it's recommended that runners get a new pair of shoes every 200 to 400 miles instead of every so many months or years. Because everyone's needs are different, some don't like shopping for running shoes at thrift stores. Personally, running shoes are one thing that I always buy new. However, don't skip the shoe section in the thrift store: there are times when you can find brand new items still in the box or with the original store tags.
Come in and check out Urban Thrift for activewear: we've put out a new stock of spring and summer items.