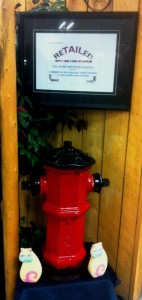 Urban Thrift sells a lot of great pet supplies such as cages, beds, dishes, and accessories. All of the profit from these items go to animal rescue organizations, especially the ones that focus on prevention.
The owner of Urban Thrift, Bev, and his wife, are both pet-lovers. They own two dogs called Mac and Chez, both of whom they got through the Alberta Animal Rescue Crew. Once, they were talking with AARCS employees and found out that although many people donate pet items to AARCS, some of them aren't usable. "They get a lot of vanity pet supplies," says Bev, "they can't really use [them] as they operate more industrially. They need things that are heavy duty and easy to clean. And a place can only have so many bowls." Unfortunately, because of this, some of the items donated to AARCS don't get used.
That is when they decided to turn the type of pet items that organizations like AARCS could not use into items they could use. "I thought that if I create a service that turns those vanity items into something more useable to AARCS like money, food, or medical supplies, it would be a win win situation." Customers can use www.retailed.ca to earmark all the sales from those items as a donation and give the money to a local pet rescue that focuses on local pet initiatives, such as food for animal shelters, or helping to cover the cost of spaying and neutering local stray pets.
puppy towels and pennies for puppies.

Check out AARCS websites to find out more about the Alberta Animal Rescue Crew. You can also visit www.makandchez.com to see more of Mac and Chez.