Although searching through a thrift store to find the perfect piece items can be a fun way to spend an afternoon, the fact is that sometimes we don't have an entire afternoon to spend shopping. With midterms for those in school, or busy work schedules, sometimes life can get pretty hectic. Here are a few tips that you can use to maximize your shopping time when you're searching for some new threads on a tight schedule.
1. Get organized.
Make a list, and know what you need, if you're looking for specific items. Our earlier article, a guide for disorganized shoppers, can apply in this situation. If you're just looking around, skip to step 2.
2. Ask For Advice
This is a point that is also emphasized in our blog post about winter boots. A lot of people are shy to ask for help, but the staff at many of the thrift stores in the Calgary area are friendly and knowledgeable. If you're looking for a specific item, or an opinion on an outfit you're not sure about don't be afraid to approach them for help. If you don't have much time, go right up and ask: "Do you carry _________?" You'll know right away whether or not you're on the right track.
3. Browse Intelligently
If you're just browsing, browse intelligently. Make a quick trip around to see where everything is situated. This way, you can prioritize where you want to look. It helps to be familiar with the way the store is organized (in addition to separating items by style, some locations sort by size, some by colour, and any combination thereof).
4. Go with a Friend
Not only is it a lot more fun to spend some free time with a friend, but you can suggest items for each other–each person extra set of eyes on the lookout for whatever item they need. Having a someone who can offer honest feedback can also help indecisive shoppers make decisions as to what looks good, or to ask "are you ever going to wear that?" can cut down on repeated tryings-on of the same item.
5. Eliminate Hassle
Speaking of trying on clothes, showing up prepared for the dressing room can eliminate a good deal of trouble. Wear stuff that's easy to take on or off. Alternately, choose an outfit that it's easy to slip clothes over. Some examples no-fuss clothes to wear when you're going to be trying items on are: leggings; simple tops or dresses; a cardigan over a close-fitting camisole. For footwear, try flats, heels, or boots that are easy to slip on or off.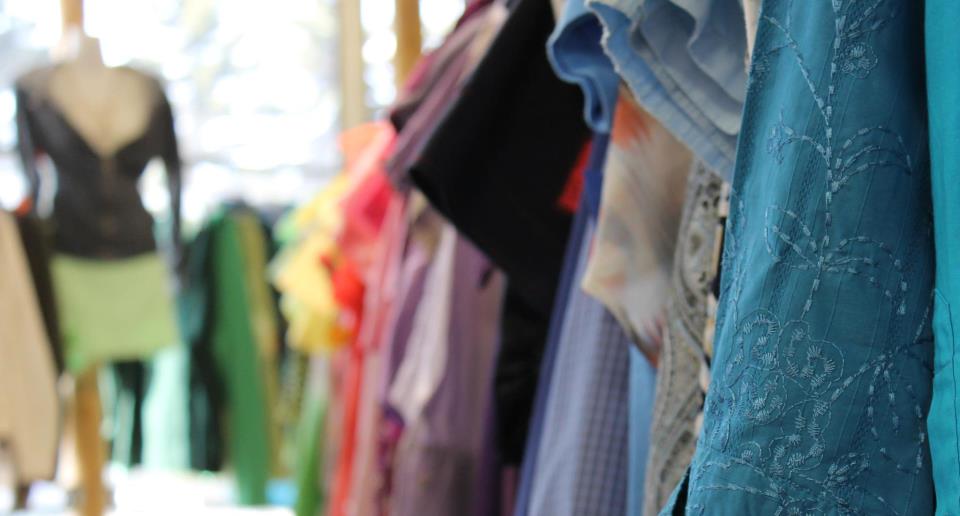 Images:
Store interior: Urban Thrift