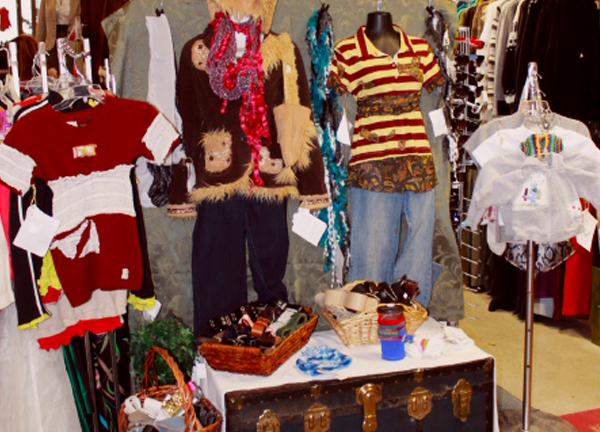 Angela Quinney is half of a team that runs "Q2 Creations", a company that creates unique, handmade, and upcycled clothing. Along with her sister Amber, she has taken part in the 2010 Women's Show, as well as markets, trade fairs, and festivals. You can currently check out their creations on sale at Urban Thrift. We interviewed Angela, who explains how this environmentally-friendly business evolved out of a hobby.
The brand, Quinney says, started out as a pastime rather than a planned business.  "My sister and I were very much clothing fanatics as well as bargain hunters." She said that they couldn't stand the thought of getting rid of outfits they had grown tired of, so instead of letting them go to waste, they "would go through our closets and get together on a weekend and rip stuff apart and sew it back together different." Angela and Amber then realized they might be able to turn their hobby into a business. She said after doing research, they were surprised by the amount of waste resulted from discarded yet perfectly good clothing. "It seemed so simple [to make] funky one-of-a-kind clothes for affordable prices," explains Angela. "Then we came up with the 'bring back recycling' idea…" They converted a small room in their house to a studio and began their foray into upcycled fashion design.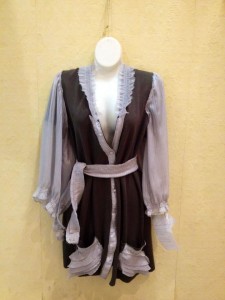 The sisters create "raw, edgy, and unique"pieces and cater to a wide demographic. Angela adds "We work with customers if they have a vision for something" or if customers bring a specific item to have refurbished. Those who decide to purchase clothing from the Quinney sisters can be sure that any item they purchase is "unique rather than uniform", as well as good for the environment. "There is just way to much waste in our society," Angela says,""Is there really a need to buy something new, if you can make it out of something you already have?"
Q2 Creations usually only supplies items to one business at a time, and they are currently partnering with Urban Thrift. "My sister and I were Urban Thrift shoppers from way back," Angela says. She adds that "Urban thfit entails a strong sense of community that is also extremely important to us."
If Q2 has inspired you to do a little bit of upcycling of your own, Angela's for advice for aspiring upcyclers is " Anything can be upcycled with a little bit of time and imagination. Talk to your friends and family for ideas.  Get together as a group, make it fun!" To get involved, check out the many tutorials online, or come check out what Angela and Amber have been doing at Urban Thrift, or check them out on Facebook. "Maybe it will give you some ideas," she says.