Babies and kids change their taste in toys as often as Calgary weather changes. Do yourself a favour and save some of your hard earned cash by buying them second hand. Thrift Stores can be a great place to find kids toys, but here are 6 reasons we suggest you shop Urban Thrift first.
Reason #1: Our Toys Actually Work!
There is nothing more annoying than finding a great toy at a thrift store only to bring it home to find out that it's broken and that the electronics don't work. You'll find a lot of thrift stores in town don't take time to test their toys and have no problem selling items that may not work citing their return policy. Well folks, that's not good enough for Urban Thrift. You'll find our staff hard at work playing with each and every toy to make sure that each siren, blaring horn, and musical note is functioning properly. It's a tough job, but someone has to do it.
Reason #2: We Sell Awesome Toys!
If your kids like V-Tech, Leap Frog, Barbie, Mega-Blok, Disney, or Tonka then you want to get down here and take a look through our toy department. It's always changing, but most of the time we have a great selection of high quality, brand name toys to choose from. If we don't have what you're looking for, wait a day or two for our inventory to change and you're bound to find something.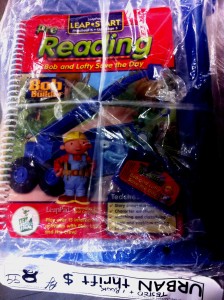 Reason #3: We Don't Sell Junk!
The only thing worse than dirty thrift stores is dirty toys at thrift stores! Yuck! You've seen them…those pieces that belong on the Island of Misfit Toys or in a trash can instead of a store display. That's safe, right? Here at Urban Thrift we inspect each piece to make sure that it's not broken or gunked up with baby drool so we can provide you with the very best in second hand kids toys. As with all our merchandise, we only sell items that are clean and in useable condition.
Reason #4: We Include The Batteries!
This may not seem like a big deal, but most the time you'll find that thrift store toys come without any juice. Here at Urban Thrift, we want your little tyke to take home that Monster Truck with life-like off-road noises and start playing with it immediately. You can save the hassle of having to dig through the closet in search of 4 AAA batteries just to get little Billy's toy to work.
Reason #5: We Include The Accessories!
What's the point of a barbie with out the clothes, or train without passengers. Whenever we can we will hold back a large complex toy and wait to be able piece together a full set. We will include as many matching pieces as we can. We can do this because we store up the little people and barbie clothes from broken toys that come in. It doesn't make us money but it makes smiles and that's about the same thing.
Reason #6: Our Toy Prices are Lower than Most Calgary Children's Consignment Stores
In general, our prices are lower than some of the children's consignment stores in town. We routinely sell V-Tech electonic toys for $4.99-$8.99 and we recently had Dancing Elmo for $5.99. Compare prices for yourself and you'll see why shopping Urban Thrift for gently used kids stores in the way to go.