Have you ever decided that you're going to re-do your wardrobe, rushed out to the mall, and ended up with a closet full of items that don't suit your needs, don't match, or simply don't live up to the way that they looked on the shelf? I know many people who can pop into store after store, pick what they like and end up with an assortment of well put-together outfits. I have just as many friends who complain that when they have to reinvent their wardrobe–perhaps for a job with a more formal dress code, or after moving to a different climate–they can't figure out what they like, they tend to end up spending too much money, or they make very impractical purchases. If you fall into the latter category, this post is for you.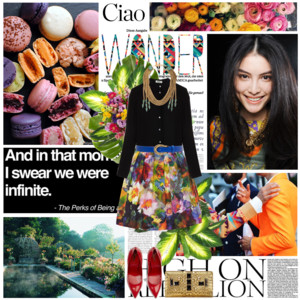 To get ideas for what kind of clothing you need, you can consider what you're shopping for. Are you looking for back to school stuff? Have you switched from a job that needs a uniform to one that requires casual or formal clothes? Are you just looking for a few things to fit with what you already have? Furthermore, even though you never know how something will look until you try it on, it still helps to take into consideration what sort clothes and colours of clothing suit you. Finally, it's a good idea to take into account what you like. Thrift stores have a variety of pieces in various styles, so they're a great place to start. Knowing what you need and what looks good on you will give you some guidelines to narrow down your search without being too restrictive.
If you're in need of additional inspiration, you can check out websites like polyvore.com. Polyvore is website where users create "sets" of images that go together. There's a huge number of users who create fashion sets, and you can easily search through the sets using keywords. They've got sets inspired not only by current fashion trends, but by art and even by film characters.
In conclusion, knowing what you need, what you like, what is flattering on you can be a huge help in selecting clothing. A small amount of thought and organization saves a lot of time in the long run.
Photo: Polyvore set "In the jungle" created by user Coolitdown