Many students opt to shop at thrift stores. This interview is the first of a series of discussions with students across Canada. Kara Boucher is a student at the University of Alberta, who is currently studying her after-degree in Classics. In this interview, Kara explains why she loves thrift and vintage shopping, and she also shares some of her favourite styles and best thrift store finds.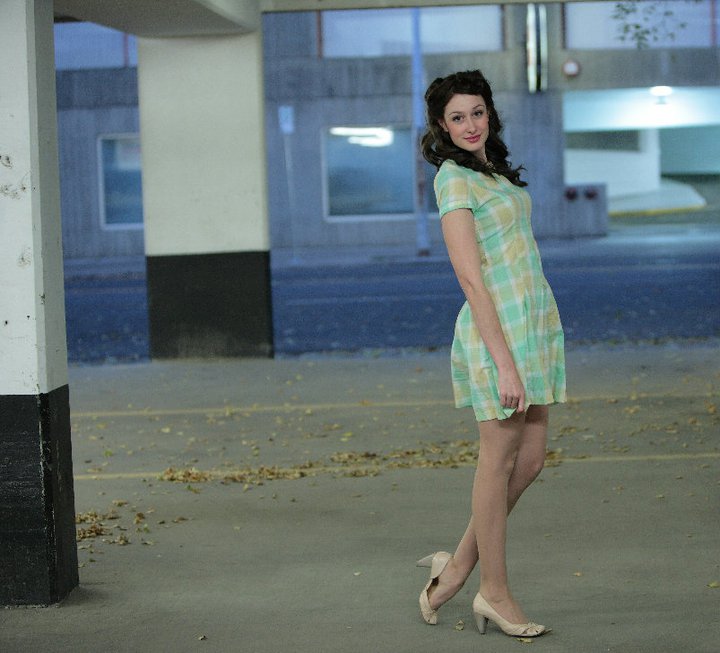 Q. What are some of the reasons you like shopping at thrift stores?
A. Having always been a student, the initial appeal of thrift shopping was its relative affordably. Due to growing demand, many chain thrift stores have raised prices whilst new clothing stores are increasingly able to offer bargain-basement pricing. Now that I am able to purchase new clothes at relatively competitive costs my interest in thrifting has shifted to the attractiveness of finding distinctive pieces. I love going out in a vintage dress that was not only a great value, but I know will be unique.
Q. Do you go usually go shopping with a good idea of what you're looking for, or do you look around until you find something you like?
A. I have learned not to go hunting for particular items at thrift stores, unless I want to leave disappointed. I think the best approach is to go when you have a little extra time on your hands and no specific goals in mind, that way you can really enjoy the thrill of the hunt.
Q. What is the best thing you've ever found?
A. Most of my prized home decorations are thrift finds, from classic records to velvet paintings and oriental rugs. As far as standout clothing finds, my favourite would have to be a vintage 1950's ballerina style ball gown. I found it about 4 or 5 years ago at a Goodwill for $14.99 and it's stunning. The sleeveless, boatneck style top is black and white patterned with sequins and I always add a crinoline to the full, black, pleated skirt. I wear it anytime I have cause for formal wear; the symphony, the opera, or even Christmas parties.
Q. Do you take inspiration from different things (ie. other people, magazines, books, film, art ect.) when it comes to choosing outfits?
A. I think more often than not I tend towards being critical of media and overarching societal influences. Not to sound pessimistic but I find myself learning more about what NOT to wear rather than finding inspiration.
Q. If so, what/who is your inspiration?
A. Of course there are times when an image or an idea will strike my fancy. As an academic who listens to heavy metal, loves the 1980's, and is a true bohemian at heart, how I portray myself through apparel comes from all of these notions. As of late I've been loving anything South-west inspired, Aztec printed sweaters, studded shoes and accessories, and a lot of textured black in various patterns and textures. Having such diverse tastes allows more successful thrift store hunting, rather than being limited by one particular style.
Q. When it comes to choosing clothes, what is the most important thing to you you (ie. aesthetics, comfort, practicality, a little bit of everything etc).
A. As a student I can't afford a lot of pieces so it's important that the ones I do invest in can multitask. I need to be comfortable sitting for hours in the library, look appropriate for work, then go out for dinner with friends. An ideal outfit for me can be transformed with just a few simple accessories that I can easily carry with me.
Q. What is your favourite thing to wear?
A. As boring as it sounds, my go to item is a little black dress. I have more in my wardrobe than I can count. My favourite is extra stretchy with sheer sleeves and falls a few inches above the knee. Paired with tights it's perfect for Edmonton winters. I like to add an oversized cardigan and flat boots for a daytime look, then switch into heels and add a lot of necklaces and gaudy costume rings for going out.
Photo: Francis Tetrault at Black Lab Photography
Hair and Makeup: Kim Berg at Bobby Pins Salon
Dress: Vintage, Red Deer Value Village