What to do with old jeans? We all have them, an old pair of jeans. Peoples weight fluctuates or you get a hole in the knee or the zipper breaks or something. Then you are left with jeans that aren't any good for wearing however if you are like me you sort of feel guilty for filling up the landfills. I am unsure where the jeans came from I am using in this demonstration however they had very interesting back pockets so it all sort of worked itself out.
The great thing about these aprons is that you can use them for anything. In the garden, in the kitchen, or like I do in my sewing room. I am always putting either my scissors or my seam ripper down and forgetting about them. In fact during the making of this DIY I lost my scissors 7 times. That is also why I have 2 sets of scissors and might have asked my husband for a 3rd set for my birthday.
You will need:
An old pair of jeans. I like to use a size bigger than I take for comfort.
A Pair of Scissors
A sewing Machine or if you are patient enough a needle and thread.
Some ribbon for the edging if you would like.
Step 1:
So the first thing you want to do is cut the jeans along the lower part of the band that the button sits on. Right above the top of the zipper and the bottom of the band.You may or may not come across belt loops depending on the type of jeans you have to work with. I cut mine off in and will be using them later on in this project.
Step 2:
The next thing you want to do is to cut the pant legs off at your desired length. I'm sort of short and these jeans are WAY too long in the leg so I will be cutting a lot off. I saved the legs and front part of the jeans for my next DIY project. You can feel free to do whatever you like with yours.
Step 3:
Cut along the outside leg from the band to where you cut the legs off the bottom. I like to keep the natural hem of the jeans. This just helps with prevent fraying around the edges.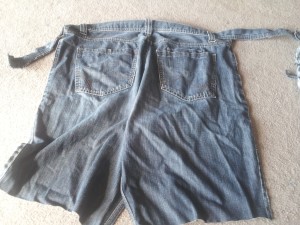 Step 4:
Now you just flip the apron in half and sew along the inside so you get rid of the middle of the pants bulge. That would just look weird while you were wearing it. After you have the seam in trim back the extra material. I also like to add a quick zig zag stitch just to make the entire thing more sturdy but that is entirely up to you.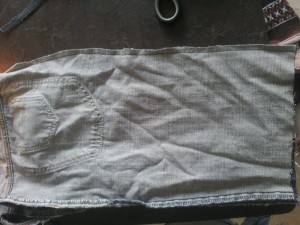 Step 5:
We are almost done. Next hem the edges I added some ribbon but you don't have to. I also sewed the belt loops I had removed earlier onto the front. It's a great place for my scissors.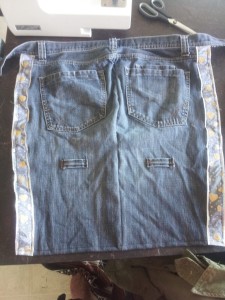 There you have it. This project took me about an hour and a half but my puppy was also helping so that makes everything go slower. I will be wearing this from now on when I work on projects. No more lost seam rippers or scissors for me. Here is a picture of me wearing the final product. Enjoy and remember be creative.